NDMC » Monuments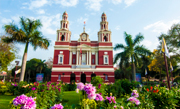 The Cathedral Of The Sacred Heart is a Roman Catholic cathedral belonging to the Latin Rite and one of the oldest church buildings in New Delhi, India. Together with St. Columba's School, and the Convent of Jesus and Mary school, it occupies a total area of 14 acres near the south end of Bhai Vir Singh Marg Road in Connaught Place. Christian religious services are held throughout the year.
---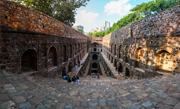 Agrasen ki Baoli (also known as Agar Sain ki Baoli or Ugrasen ki Baoli), designated a protected monument by the Archaeological Survey of India (ASI) under the Ancient Monuments and Archaeological Sites and Remains Act of 1958, is a 60-meter long and 15-meter wide historical step well on Hailey Road near Connaught Place, Jantar Mantar in New Delhi, India.
---
Bhuli Bhatiyari ka Mahal | Locate on Map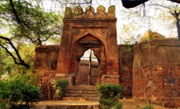 Bhooli Bhatiyari (or Bhuli Bhatiyari ka Mahal) is a Hunting Lodge built by Feroz Shah Tughlaq in 14th century. Bhooli Bhatiyari Mahal consist of many small chambers in it. Except king's hunting time, this also used as inn too.
---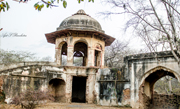 Talkatora Garden is a Mughal-era Garden situated on the Mother Teresa Crescent (previously Willingdon Crescent) in New Delhi. In ancient times, it used to be a tank and a Swimming pool.
---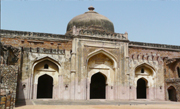 The Khairul Manzil Masjid is located opposite the Purana Qila and was built in 1561 by Maham Anga, a powerful wet nurse of Emperor Akbar. Anga was the foster mother of Akbar and briefly ruled the Mughal Emperor when Akbar was a young boy. The mosque was built with the help of Shiha-bud-Din-Ahmad Khan an influential minister and relative of Maham Anga.
---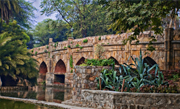 Athpula bridge was built during the region of the Mughal king Akbar, the bridge was constructed to span a stream that went through this area and probably joined the Barahpula nala further south which fed into the river Yamuna.
---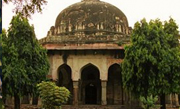 Tomb of Sikandar Lodi is the tomb of the second ruler of the Lodi Dynasty, Sikandar Lodi (reign: 1489–1517 CE) situated in New Delhi, The tomb is situated in Lodhi Gardens in Delhi and was built in 1517–1518 CE by his son Ibrahim Lodi. The monument is situated 100 meters away from the Bara Gumbad.
Hertitage Guide (English)
Hertitage Guide (Hindi)
---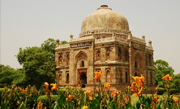 Shisha Gumbad is a tomb from the last lineage of the Lodhi Dynasty and is thought to have possibly been constructed between 1489 and 1517 CE.The Shisha Gumbad (glass dome) houses tombs of an unknown family that may have been a part of the Lodhi family and a part of Sikandar Lodi's court.
---
Muhammd Shah Sayyid's Tomb | Locate on Map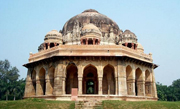 TOMB OF MUHAMMAD SHAH KNOWN AS MUBARAK KHAN-KA-GUMBAD - Muhammad Shah, son of Farid Shah, was the third king of Sayyid dynasty. The building is said to have been erected by Alaud-Din Alam Shah, son and successor of Muhammad Shah.
---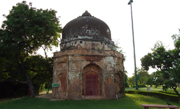 The Tomb of Ayed Abid is located on the grounds of the Delhi Golf Club complex, near Lal Bangla. The tomb was built in 1036 AH (c. 1626 CE). Sir Syed Ahmed Khan's seminal work on the monuments of Delhi, Aasar Us Sanaadeed mentions Syed Abid as an associate of Khan Dauran Khan, one of Shahjahan's leading soldiers.
---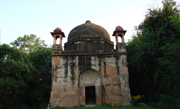 This monument is located at Delhi golf course. This lies along the wall next to Archbishop Makarios Marg. This is of early Mughal period.
---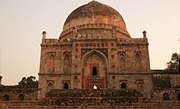 Bara Gumbad (literally "big dome") is an ancient monument located in Lodhi Gardens in Delhi, India. The Bara Gumbad was constructed in 1490 CE, during the reign of the Lodhi dynasty. Its construction is generally attributed to Sikandar Lodhi, and it is believed to have the earliest constructed full dome of any building in Delhi.
---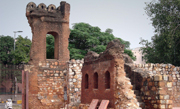 The Tomb of Najaf Khan lies opposite Safdarjung Airport. Mirza Najaf Khan was an Adventurer who relocated to India and became a noble in the Imperial courts of Mughal Emperor Shah Alam III.